Tosayamada fireball
At 25, Jul.2011, 16h33m(UT), a fireball fright over Ehime pref. to Kochi pref.
Mr.M.Ueda(Osaka pref.) and Mr. mars(Okayama pref.) observed by automatic TV camera.
These images detect by "UFOCapture" and analysed by "UFOAnalyser". M.Ueda calculated orbit.
Resulted orbit have general apherion as meteorite between Mars and Jupiter orbit.

Twice or more fragmentation neer luminous end indicate some meteorite fell.
Maximum luminous magnitude is -4. Drag coefficient will large value so that lead effective deceleration.
100 g or less meteorite fell on around Shigetou, Tosayamada town Kochi meteorite.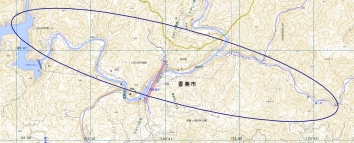 Retouched Geographical Survey Institute Map
Back to meteorite list
---
Link