Mt. Ishizuchi Fireball
Jul. 21, 2004, 16h06m05s UT (=Jul. 22, 01h06m05s LT), a bright fireball appeared over Aki city, Kochi prefecture, Japan.
This fireball flight to west-noth-west with explosin. Fireball duration was 6 seconds.
Witnesses were few why whether condition was not so good in the midnight.
However big shock sound was heard 1-3 minuits after the fireball appeared in east and center Kochi prefecture.
Sonicboom signal was recorded by seismographs set on Tokushima prefecture and east - central Kochi prefecture.

Two sites of patrol TV camera by Mr. N.Hashimoto who belong LAT and Bisei space gurd center
cought this fireball's trail between clouds. The orbit calculated from his TV images shown
Yamamoto circular No.2435(in Japanise).
This fireball's orbit belong to Athen type.

---
Predicted Fell Area
Red ellipse is predicted rea.
(Corrected on Zenrin map)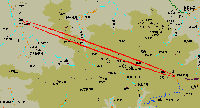 ---
Link
Tokushima Kainann Observatory : One of TV camera site of Mr.N. Hashimoto.
---
Data Supply
This results carryed out by accepted data from bellow organizations.

National Research Institute for Earth Science and Disaster Prevention
Kochi University
Japan Meteorological Agency
Disaster Prevention Research Institute Kyoto University
Earthquake Research Institute, University of Tokyo
Shionomisaki Weather Station(in Japanese) Sounding's Section
Kochi Newspaper(in Japanese)
---
Cooperaters
Nariyasu Hashimoto (LAT, Bisei Space Guard Center)
Yoshiaki Ishihara (Research Center for Prediction for Earthquakes and Volcanic Eruptions)
Yasuo Shiba (Nippon Meteor Sciety, Hakuro Technical Highschool)
Masayuki Yamamoto(Electronic and Photonic Systems Engineering, Kochi Univercity of Technorogy)

---
©copyright 2007, Yasuo SHIBA, All Right Reserved